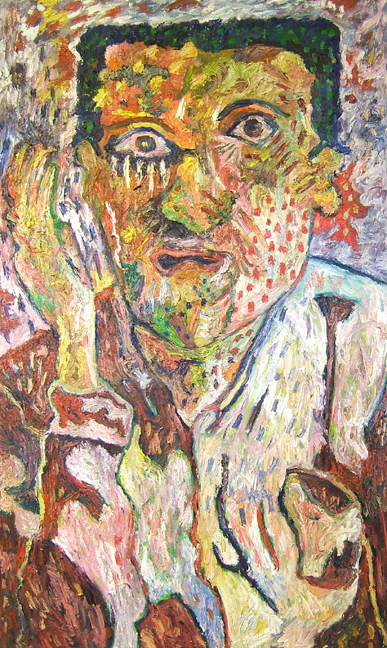 Faraj Sarkouhi
2007
oil on canvas
60" x 36"
$7,500
Iran
Faraj Sarkouhi, former editor-in-chief of the Iranian socio-literary journal Adineh, was detained by authorities and held incommunicado after trying to board a Berlin-bound flight from Tehran's Mehrabad Airport in November 1996. Following inquiries from groups such as the international fellowship of writers, PEN, he reappeared after seven weeks of intensive interrogation that included beatings and death threats. Arrested again in late January 1997, he was held for nine months before being convicted at trial of "slandering the Islamic Republic" and sentenced to one year in prison.
The Iranian Foreign Ministry denied requests by Amnesty International to send a delegate to observe the proceedings, as well as similar requests by the group to enter Iran for fact-finding, trial observations and government talks have been denied since 1979. Freedom of statement has been particularly threatened in Iran in recent years. In 2000, police detained at least 34 journalists, writers and human rights defenders, and 12 of these were sentenced to prison terms following what were widely suspected to be unfair trials. In the same year, 30 publications were ordered closed or suspended. Faraj Sarkouhi and other signatories of the "1994 Declaration of 134 Iranian Writers," calling for freedom of statement and an end to literary censorship in Iran, have benefited from the international scrutiny that his case has drawn. Released from prison in 1998 and finally reunited with his family in Germany, he serves as an enduring figure for journalistic freedom in Iran.
All images on this site are copyright © 2008 by Tom Block Arts. Please contact the artist for use of these images.